Vendor Tables
Orillia Soldiers' Memorial Hospital is pleased to offer a vendor kiosk program at the Hospital. For more information on our program, please read the information provided below.
---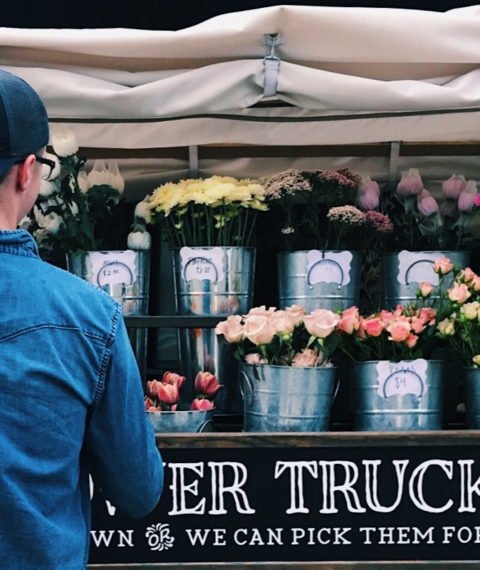 Submit An Application
If you are interested in our vendor kiosk program please download the form. Once completed please email return by email, fax or mail.
Download Form
---
Vendor Kiosk Policy
Vendors interested in selling goods/services at OSMH are required to complete the OSMH Vendor Application Form which will be submitted to the OSMH Community Relations department for consideration into the Hospital Vendor Program. Vendors are required to comply with all of the rules and regulations of the Hospital Vendor Program.
OSMH reserves the right to withhold permission from any Vendor or discontinue a vendor's sale immediately if there is a violation of any law, regulation or this policy.
OSMH reserves the right to cancel any scheduled vendors for reasons impacting hospital operations, including, but not limited to, an infectious outbreak, power failure or other unforeseen circumstances.
Upon entry into the hospital, vendors must obtain a Visitor's ID badge at the Volunteer Information Desk in the main lobby, and display this badge on their person at all times while on hospital property. The ID badge is to be returned just prior to leaving the hospital.
Vendors must comply with the hospital's minimal fragrance policy.
Vendors are not provided with complimentary parking, but can access hospital or public parking lots at their own expense.
Vendors may load and unload their items at the main entrance to the hospital, providing they do not impede the regular flow of people/traffic. Long-term parking/stopping at the main entrance is prohibited.
Vendors are responsible for their own promotional materials.
One sign may be taped onto wall at their location, identifying who they are.
OSMH will not put up flyers or signs in the building or send out mass emails to staff.
No overhead paging is permitted.
Stopping or approaching perspective customers in hallways or any other areas of the hospital is strictly prohibited. Vendors are restricted to the designated areas assigned by the Hospital.
OSMH is not responsible for lost or stolen merchandise.
---
Product Guidelines
All sales items must be in new and superior condition, and are required to be on-site and available at the time of purchase.
All products must be scent-free, in keeping with OSMH's minimal fragrance policy.
Vendors who sell food items must ensure that items are in commercially sealed and labelled packaging. Nut products must be sealed and labelled appropriately.
Vendors are not permitted to make any medical claims or statements about any product or service they are selling. Any terms, such as, but not limited to, cure, treat, heal, pain, relief, remedy, in regards to any medical conditions such as, but not limited to diabetes, arthritis, migraines, implied or expressed, verbal or in written form are strictly prohibited.
OSMH is in no way endorsing products for sale, nor shall this be implied in any way in any flyers or advertisements.
Vendors selling copyrighted or trademarked products must submit permission letters with this Agreement. In other words, vendors SHALL NOT sell any counterfeit, replica or knock-off merchandise. Failure to provide a permission letter may result in a ban from the vendor program. Vendors in violation will be asked to leave without return of payment and all future dates will be forfeited.
Fundraising initiatives that are considered to be in direct competition with OSMH or the OSMH Foundation fundraising initiatives will not be permitted.
---
Set Up
Vendors will be provided access to the room or area assigned to them at 0800 hours (8 a.m.) and can begin selling products as soon as they are ready. Vendors must cease sales by 1600 hours (4 p.m.) and have vacated the space provided to them by 1700 hours (5 p.m.).
Complimentary electrical access will be provided and is at the discretion of the OSMH Director, Facilities Maintenance. All electrical appliances must be CSA approved.
Any wires running to outlets must be taped securely to the floor.
The hospital does not provide access to a phone line.
Vendors are responsible for assembling and dismantling their displays, ensuring their display area is clean and maintained throughout the day. At the end of the day, the space must be left in the same condition as it was found in the morning.
Setup should be contained and cannot disrupt the overall traffic flow.
Customers should be made aware of your refund and return policies.
Vendors must not hang any items from the ceiling or walls.
Vendors are prohibited from selling products made from Lead or Cadmium on property. Please visit Health Canada webpage at www.hc-sc.gc.ca or contact Health Canada directly at 1-866-225-0709.
---
Payment
The daily fee for Outside Vendors is $100+HST/day.
Vendors can pay by credit card or with cheques made out to OSMH Community Relations. Cheques must be dated for the first of the month prior to your scheduled date i.e. if your vendor date is November 15th the cheque must be made for October 1st. Credit Cards will be charged on the first of month prior to your scheduled date in order to secure your booking.
If cancellation occurs prior to the first day of the month prior to your vendor day, no charge will be applied.
After payment is processed, any cancellation up until 14 business days prior to your scheduled date will result in a 50% refund.
In the event of a no show or cancellation less than 14 business days prior to your scheduled booking, you will forfeit your deposit.
Vendors may not swap days with other vendors. Vendors who have not signed our contract are prohibited from selling on our site.
Failure to comply with the above Terms could result in the vendor being asked to leave immediately with no refund for rental fees issued.