News + Announcements
Mental Health Services Unit Nurse Wins 2022 OSMH Nightingale Award
(Orillia, ON) – Registered Nurse, Omar Sadoon has been awarded the 2022 Orillia Soldiers' Memorial Hospital (OSMH) Nurses Alumnae Nightingale Award.   A nurse at OSMH since 2020 in the Mental Health Services Unit, Mr. Sadoon was notified of his award during the hospital's weekly staff Zoom town hall meeting.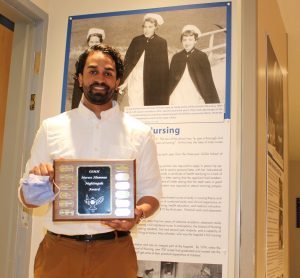 Mr. Sadoon was nominated by a patient he assisted during their stay on the Mental Health Unit who commended him for his compassionate care and for supporting mental health rather than stigmatizing it.
"I'm honoured," said Mr. Sadoon concerning the win.  "I credit the supportive team I work with on the Mental Health Services Unit. While they work incredibly hard to provide exceptional care to vulnerable patients, it's important to recognize how difficult it's been to practice nursing in the last few years."
Here is an excerpt from the nomination:
"I was admitted at one of the lowest points in my life. I was scared and felt like I was losing control. Omar came to my room, sat with me, helped me rethink the way I was feeling and spent more time with me than anyone else.   He went above and beyond to make sure I was feeling ok and repeatedly checked on me even when he was busy.  He is kind, compassionate and understanding. He was my true saving grace while I was a patient on the Mental Health unit. There needs to be more people like him, supporting mental health rather than stigmatizing it."
Jill Colin,  OSMH Vice President, Patient Care & Chief Nursing Executive presented the award to Mr. Sadoon in a small ceremony with leaders and colleagues.
"This year's theme of Nursing Week was We Answer the Call, and Omar's nomination exemplifies this commitment.  It spoke to his amazing dedication to patients in mental health crisis. He has truly changed their lives for the better in very difficult times. " Colin said.
Mr. Sadoon had tough competition edging out 12 other OSMH nurses nominated for the award by community members, including runner-up Elysia Jackson.  Jackson, an RN with the Paediatrics/NICU Unit was nominated by the parent of a patient admitted for a lengthy period.  She was praised for the time she took to make a meaningful connection with the nominator's daughter:
"The nurses in the unit were all incredible but given that we are dealing with an eating disorder and subsequent mental health issues, a bit of a different approach was needed and Elysia delivered and beyond!!! She took the time to sit with my daughter and discuss her feelings and even took the time to offer tools and printed out feel good quotes for her wall. Honestly, these actions played a huge part in my daughter's journey."
 The OSMH Nurses Alumnae Nightingale Award recognizes a nurse at OSMH whose work has positively affected the lives of patients. It is named after nursing pioneer Florence Nightingale whose lasting contribution was her role in founding the modern nursing profession. Her legacy is one of compassion, commitment to patient care and thoughtful nursing leadership.
In recognition of the value OSMH nurses contribute to the healthcare community, OSMH developed five Peer Recognition Awards to honour their ongoing dedication and commitment.
2022 – OSMH Peer Recognition Award Winners
Heart of Gold – Lini Ponnachen
A nurse who in the past year has demonstrated and exemplified compassion in all avenues with patients, families and peers.
Coach of the Year – Natalie Bodkin
A supportive and resourceful nurse who in the past year has provided coaching and mentoring to their peers.
Just for Laughs – Krysta Hansen
Laughter is the best medicine, a nurse who in the past year has demonstrated positivity & humor with patients, families and peers.

Rookie of the Year – Emily Noack
A new hire or new grad who in the last year has demonstrated outstanding nursing skills or most improved during their first year.

PSW of the Year – Amanda Lambert
New in 2022 – an award nominated by OSMH peers to recognize the valuable work and care provided each and every day.