COVID-19
COVID-19 updates from Orillia Soldiers' Memorial Hospital
---
Couchiching COVID-19 Assessment Centre at Rotary Place
Orillia's COVID-19 Assessment Centre
CLICK HERE TO BOOK AN APPOINTMENT AT THE COVID-19 ASSESSMENT CENTRE 
Appointments can also be booked by calling 1-888-589-4109 from 8 am to 4 pm.
Orillia has opened a COVID-19 Assessment Centre located  at 100 University Avenue.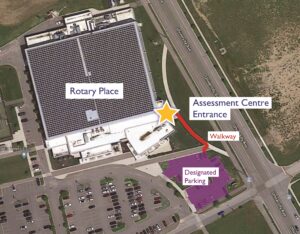 Click here to see a video from Mayor Clarke and Dr. Kim McIntosh about the new assessment centre.
*If you are coming to the assessment centre please bring your health card and driver's license.  Having both items will help make your time at the centre much quicker.
Hours:
Monday – Friday: 11 am – 6:30 pm
Saturday and Sunday: 11 am – 2:30 pm
Things to know when attending the Assessment Centre
Do not enter Rotary Place at the main entrance. Follow the signs and access the Assessment Centre through the dedicated entrance at the side of the building.  Please follow the directions for exiting the building.
Please follow all precautions including wearing a mask, social distancing and frequent hand hygiene
The time of your appointment is the time that you should arrive at the Assessment Centre. Your test should be completed within approximately 30 minutes of your scheduled arrival time.
What happens at the Assessment Centre?
If I am tested at the Assessment Centre, how will I find out the results?
Results are available online at https://covid19results.ehealthontario.ca
If you have not received your results after seven business days please call the assessment center.
If you have a positive test result, your local Public Health will contact you to inform you of the result and provide any other necessary information if you test positive.
If I am tested, how long will it take to get the results?
The results could take up to seven days to be available on the result website.
Symptomatic Patients will be advised to remain at home in self-isolation pending the results of their test.
Click here for a guide on how to self-isolate.
Contact Telehealth Ontario at 1-866-797-0000 or your local public health unit if you're experiencing symptoms of the 2019 novel coronavirus.
Do not call 911 unless it is an emergency.
Essential Visitor Policy
Orillia Soldiers' Memorial Hospital recognizes the crucial role that care partners play in the lives of its patients and their care journeys. We are pleased to report that there will be a phased introduction into increasing the presence of essential visitors and care partners at Orillia Soldiers' Memorial Hospital.
There will NOT BE a resumption of OPEN visiting at this time.
The number of visitors is being restricted for the safety of all patients and staff, as COVID-19 continues to be present in the community. Here are some important things you need to know:
Essential Visitors right to be present can be revoked at any time should they choose to not adhere to infection control practices or the terms outlined in this document. 
All Essential Visitors:
Must be approved and authorized by the appropriate manager. The patient or their Power of Attorney/ Substitute Decision Maker will be involved in identifying Essential Visitor(s).
Are required to adhere to the schedule as provided to them in terms of frequency and duration of visit.
Will be screened at each visit to ensure that they have no signs and symptoms of COVID-19 or any other communicable illness. Essential Visitors who do not pass screening will not be permitted to enter the hospital and are advised to contact their health care provider or Telehealth promptly.
Must pass the screening assessment with each visit.
Are required to wear the Essential Visitor sticker, which must be visible, at all times.
Are required to follow all of the necessary infection control practices.

Essential Visitors will be required to clean their hands and wear a mask or face covering at the point of entry to the hospital and throughout the entirety of their visit. The mask or face covering must be clean and cover both nose and mouth.  If Essential Visitors do not have a mask or face covering, we will provide a mask at the entrance.
Essential Visitors must clean hands with the hand sanitizer when entering the hospital and when entering and exiting the patient's room or care area.
Essential Visitors must maintain 2 meters (6 feet) physical distancing at all times from those other than patient they are accompanying or visiting.

Inpatient Essential Visitors are required to check in and out at the nursing station for each visit. They are restricted to the patient's room and to the appropriate restroom facilities. They may enter the hospital once per visit. There are no in-and-out privileges.
Essential Visitors are not permitted to use any common areas like waiting rooms, the Worship Centre and cafeteria to reduce the risk of transmission. Essential Visitors are encouraged to eat prior to visiting.
Those who are accompanying patients in the Emergency Department, for day surgery or outpatient clinic appointments, are to remain with the patient at all times unless otherwise directed by a member of the care team, e.g. day surgery care partners may be asked to depart and return to the hospital following the procedure as waiting room space is currently restricted.
Approved Essential Visitor Screening Questions:
Do you have a fever (37.8C or greater), new onset of cough, worsening chronic cough, shortness of breath or difficulty breathing?
Does anyone in the household have any of the symptoms listed above?
Have you had close contact with anyone with acute respiratory illness?
Have you travelled outside of Canada in the last 14 days?
Do you have a confirmed case of COVID-19 or had close contact with a confirmed case of COVID-19?
Do you have sore throat; decrease or loss of sense of taste or smell; chills; nausea/vomiting, diarrhea, abdominal pain; pink eye (conjunctivitis); runny nose / sneezing without other known cause; and/or nasal congestion without other known cause?
Frequently Asked Questions
Who determines the Essential Visitor?
The patient or where not possible, the Power of Attorney (POA), Substitute Decision maker (SDM), Next of Kin, or another contact over the age of 18 years.

Who can be an Essential Visitor?

Family members, friends, care givers, private paid care givers or others who have been expressly identified by the patient or where not possible, their POA, SDM, Next of Kin, or another contact over the age of 16 years.

Who cannot visit?

Anyone who does not pass screening.
Anyone who has not been specifically identified by the patient or their POA, SDM, Next of Kin, or another contact over the age of 16 years.
Anyone who fails to adhere to infection control practices or the terms outlined in this document.

What will be the visiting schedule and times?

Essential visiting will be restricted based on the patient's care plan. The care team will determine frequency, date and time of visits.
With guidance from Public Health, as conditions evolve, we will update patients and their supports on any further changes in the visiting process.

Could visiting be stopped again?

If the number of COVID-19 cases in the community increases or if we are in an outbreak, Public Health can put restrictions on all visiting.

 

Thank you for continuing to partner with us in keeping everyone safe. For your health, that of your loved one currently in hospital, along with the staff caring for them, we strongly encourage you to:

Clean your hands frequently with hand sanitizer or soap and water
Stay home when sick
Maintain physical distancing of at least 6 feet or 2 meters
Wear a mask or face covering over your mouth and nose at all times while visiting
COVID-19 Resources and News
News