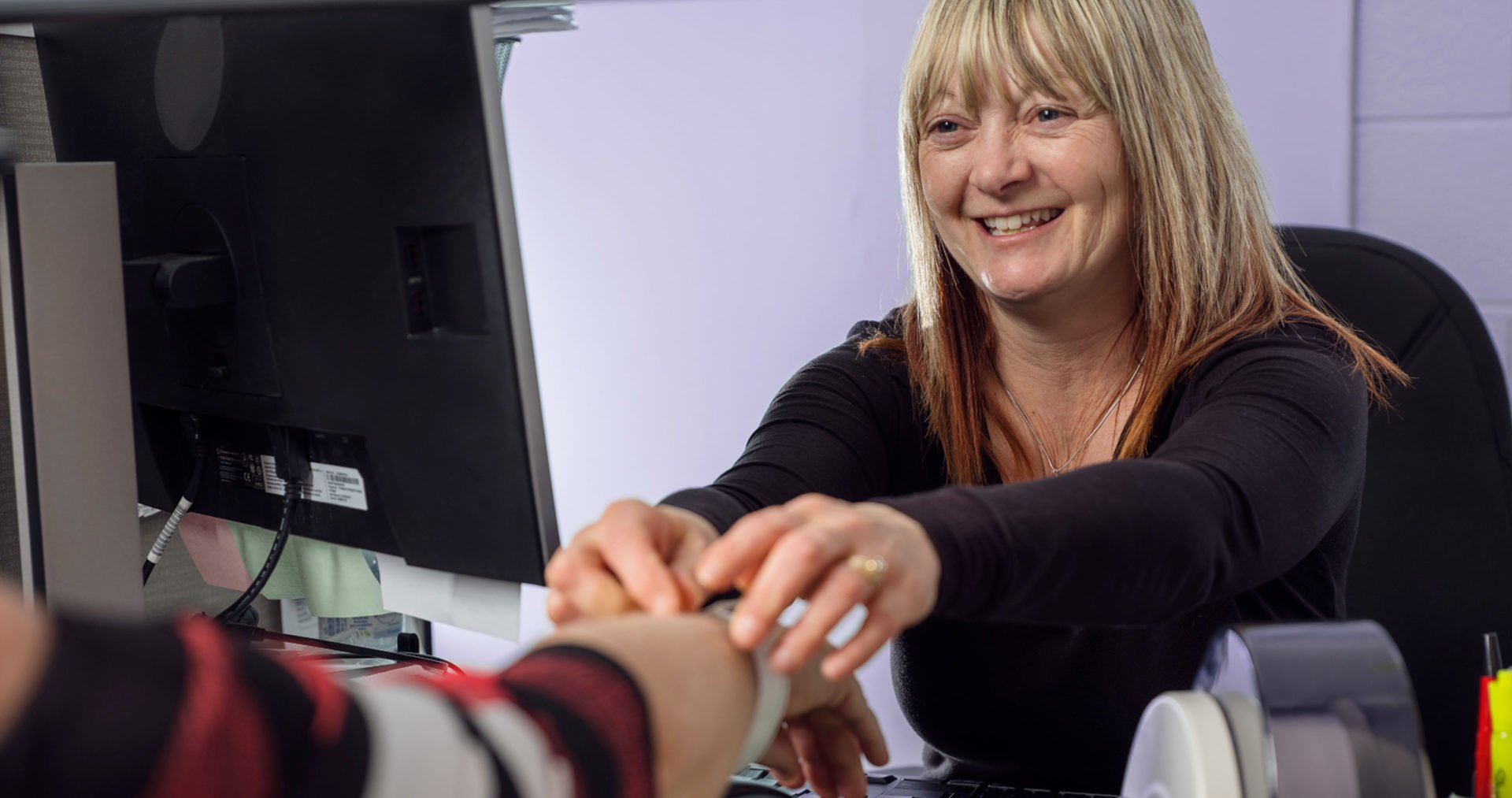 Accommodations
When a family member has been hospitalized or is being treated at OSMH you may need to stay in Orillia. Please ask the volunteers at the Information Desk, in the main lobby of the hospital, about hotels and other forms of accommodation available in the city.
---
Finding Cash, ATMs
Bank Machines
A bank machine is located just inside the main entrance of the hospital. There is a service charge of $1.50 to use the machine.
Cashier
The Cashier's Office is located near the main lobby of the hospital and is open Monday to Friday from 9 a.m. to 3 p.m.
Change Machine
A change machine is located in the main lobby. It exchanges $5, $10, and $20 bills for an equal value of dollar coins.
---
Food Services
Patient Meals
Unless your doctor has ordered a special diet for you, you will be provided with a non-selective menu that has been carefully chosen for you. Our meals for all patients follow Healthy Heart Guidelines and are low in salt and fat. At your first meal after admission, we provide a form for you to fill out regarding foods you do not like or preferences you have e.g., coffee with 2 cream and sugar (we give one each as a standard). The form (usually pink) can be returned to the kitchen with your dirty tray and we will update your meal selection according to your preferences, providing it aligns with the diet ordered.
If you have any questions about what you are eating, or would like to see a menu clerk to review your meal selections, please contact your nurse. We trust you'll find the meals appetizing, hot and nourishing.
Dining Rooms are available for use on Harvey 2, IMRS, C5 and C6. If you are a patient on any of these units, you may choose to eat your meal with other patients. Meal times depend on your location in the hospital. Breakfast is delivered between 7:30-8:30 a.m., Lunch 11:30 a.m. -12:30 p.m. and Dinner 4:30-5:30 p.m.
Guest Meals
Guests are welcome to purchase any meal for delivery to your room. Meal purchase forms are available in the Cafeteria. One form per guest/per meal is required and payment is needed when filling out the meal purchase form. Forms and Payment must be received in the cafeteria during operational hours 8 a.m.-2 p.m.
Cash, debit or credit is accepted.
Cafeteria
Our cafeteria, located on the main floor of the hospital, offers a variety of soups, sandwiches, hot entrees, salads, desserts and fresh-brewed fair trade coffee, as well as a wide variety of juices and cold beverages. The cafeteria is open Monday to Friday from 8:00 am – 2:00 pm, and closed on weekends and holidays.
Dora's Place
Visitors can also purchase snacks, drinks, and Tim Horton's beverages at Dora's Place in the main lobby. Dora's Place is open weekdays from 7 am – 8 pm, and weekends from 8 am – 8 pm. Please note: Dora's Place is staffed by hospital volunteers and in some circumstances may not be open due to unexpected absences.
Vending Machines
Currently located outside the cafeteria and in the main hallway, offers cold drinks, healthy snacks, (nuts, trail mix, dried fruit), along with chocolate bars and chips. Cash and credit cards are accepted.
---
Visitor Services
Wi-Fi Access
OSMH is happy to offer free Wi-Fi to all those visiting our hospital.  Simply search your device for ""OSMH-Patient-WIFI"  and accept the terms and conditions. Patients are encouraged to bring their tablets and devices for Wi-FI access.
Newspapers
There are newspaper boxes located at the main entrance of the emergency department, and just outside the main entrance of the hospital.
Mail
Post Office mailboxes are located outside the Main Entrance of the hospital. You can buy books of stamps at Dora's Place Gift Shop.
Mail will be delivered daily to patient rooms by one of our hospital volunteers. If mail is delivered to the hospital after a patient has been discharged, our volunteers will re-address it to their home. To make sure of fast delivery, have all mail addressed with:
your full name
your room number
Orillia Soldiers' Memorial Hospital
170 Colborne Street West
Orillia, ON L3V 2Z3
Hair Care
Hair care can be arranged through your nurse. We have a barber on call that comes in to cut hair, however, if you would prefer to go out we can arrange that as well. There are a few salons in the area that we send patients to on a regular basis.
Taxis
Direct lines to local taxis are located in the main lobby of the hospital, and the lobby of the emergency department.
Private Duty Nursing
Please check with the Nursing Department if you or a relative want to employ a Private Duty Nurse in the hospital. The Private Duty Nurse must be a hospital employee.
Hearing Assistance
If you have difficulty hearing or are deaf, contact your nurse who will make arrangements to help you communicate while at our hospital.
Lost or Found
If you have lost or found an item, please call the Information Desk at 705-327-9121. Please be advised that OSMH is not responsible for lost or stolen property, so we encourage you to leave your valuables at home.
---
Culture and Worship
Cultural Affairs
'Culture' means many different things to many different people. Promoting cultural affairs at OSMH is an integral part of our value system as it recognizes and respects the dignity of every human being in the organization.
We will be successful in living our values by ensuring that all patient rights and privileges are adhered to according to the Human Rights Code of Ontario.
(The Ontario Human Rights Code prohibits discrimination on the grounds of race, ancestry, place of origin, colour, ethnic origin, citizenship, creed, age, record of offences, marital status, sexual orientation and physical or mental abilities.)
OSMH is also proud to offer enhanced cultural services to support Francophone and Indigenous (First Nation, Métis, Inuit) patients and families.
Indigenous Patient Navigator
The Indigenous Patient Navigator provides support to First Nations, Metis and Inuit patients and their families that visit Orillia Soldiers' Memorial Hospital. The Indigenous Patient Navigator is onsite 4 days/week and 1 day/week at the Rama Health Centre.
Services offered:
Support before, during, and after hospital visits as well as clinic appointments
Liaison, support between the care team, patients, and families
Advocacy on behalf of patients
Assistance with care planning
Coordination of traditional and non-traditional community resources
Please call 705-325-2201 ext: 6291  or   call/text (249) 385-7688
If you would like to know more about cultural services at OSMH, please contact the Cultural Affairs office at the number below  or following email patientrelations@osmh.on.ca
The office is open during regular business hours Monday to Friday excluding statutory holidays and is located adjacent to the Worship Centre in the main entrance corridor.
Pastoral & Spiritual Care Services & Worship Centre
We are proud to offer pastoral and spiritual care services provided by a diverse team of volunteers who embrace a variety of approaches for a multitude of faiths and beliefs. They fulfil the community's need for religious and spiritual comfort while in the hospital and do so with a respectful and sensitive approach.
Our pastoral and spiritual care volunteers serve those of any faith, those of no faith, and those who are undecided. Members of our volunteer team are experienced in supporting patients and their families across the organization including palliative care, dialysis and maternity. Group sessions on spirituality are also provided for both inpatients and outpatients in the mental health program.
Our team is comprised of volunteers representing our community agencies, local and surrounding churches (places of worship) as well as Rama First Nations. The long-standing affiliation with the Army Navy Air Force Unit 400 and the Royal Canadian LegionBranch 34, have volunteers who provide comfort and support to patients with military service.
Our team mission is to ensure multi-faith and multi-cultural care is made available to all patients and families to complement care and comfort during the hospital experience. To enrich the lives of our patients and families, weekly non-denominational music services are held on the complex continuing care unit (4th floor)every Thursday at 2:30 pm. In addition, our diverse team facilitates a variety of special religious and ceremonial requests such as communion, baptism and smudging.
OSMH also offers a dedicated resilience space currently known as the Worship Centre. It is a place of tranquillity and peace that welcomes those of any faith, those of no faith and those who have yet to make that decision. The Worship Centre is located near the main entrance lobby and is accessible to patients, families and visitors 24hrs a day, 7 days a week.
It is through all these collaborative volunteer efforts that OSMH has been successful in caring for patients as a whole person through their healthcare journey.
For more information, please contact
Francophone Patients and Families
To enhance the delivery of care and services for Francophone patients and families, OSMH is pleased to offer referrals for cultural and linguistic supports in partnership with the French Language Health System Patient Navigator located at the Chigamik Health Centre, Midland Ontario.