News + Announcements
Nurse Receives Annual Honour
---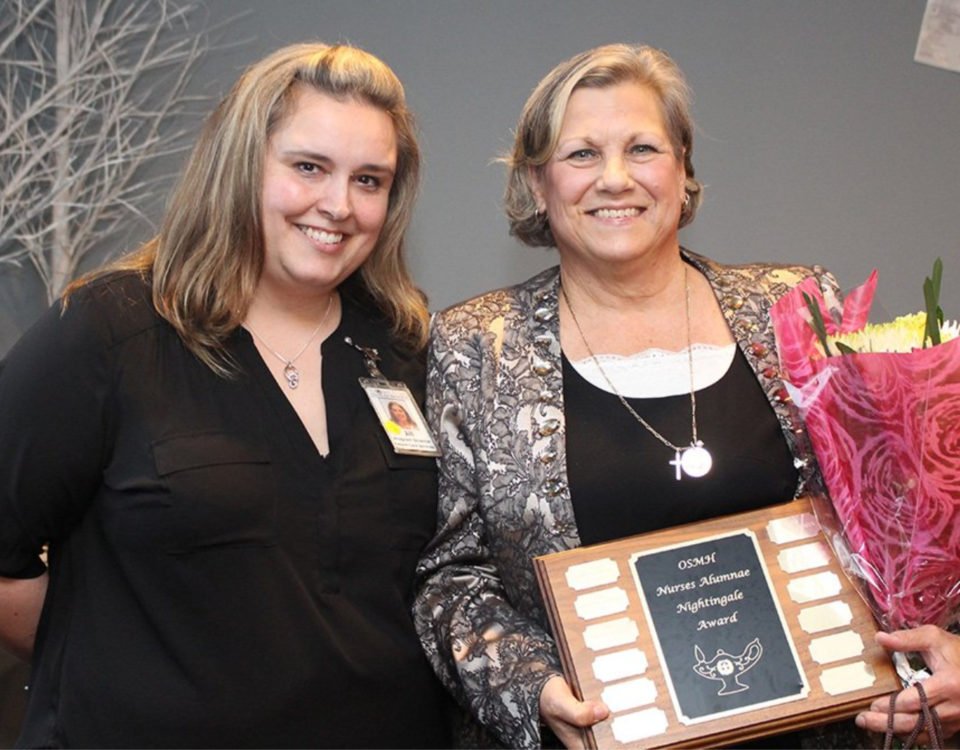 Community Support Worker Mandy Hillyard has been awarded the 2019 OSMH Nurses Alumnae Nightingale Award. The award was presented during a special event on May 9 in celebration of National Nursing Week.
Hillyard, a community support worker in the Community Mental Health Services department at Orillia Soldiers' Memorial Hospital (OSMH), was nominated by her peers for the award in recognition of her commitment to all patients.
During her role at OSMH, Mandy has taken after-hours phone calls from clients in crisis…
One of Hillyard's nominators stated the following in her nomination "During her role at OSMH, Mandy has taken after-hours phone calls from clients in crisis, acted as an advocate in a variety of situations and continues to work to bridge the gap for those in need. Mandy not only embodies the vision of OSMH (Excellent compassionate care … every day), she is trustworthy, reliable and strives to see people do their best, whatever that may look like."
An excerpt from Hillyard's second nomination highlighted her career as a registered nurse: "Mandy has shown a commitment and passion towards homelessness and mental health throughout her 42 years as a Nurse. There is so much experience in her career it's difficult to highlight one piece. Her commitment to advocate, break down barriers, and stigma for addictions, mental health, and homelessness and provide front line and grass roots work is shown through her years of service. She is a person who needs to be recognized for her years of commitment and service to a vulnerable sector of our community, she has made such on impact on our community services and the lives of the people she supports."
Jill Colin, OSMH's Chief Nursing Executive presented the award to Hillyard at a Nursing Week celebration Thursday night. "Mandy's nominations spoke for themselves about her true passion for her work" Colin said.
Along with Hillyard, 18 other nurses at OSMH were nominated for the award.
"I am very honoured to receive this award, and it truly means a lot to me that I received two nominations." said Hillyard.
The OSMH Nurses Alumnae Nightingale Award recognizes a nurse at OSMH whose work has positively affected the lives of patients. It is named after nursing pioneer Florence Nightingale whose lasting contribution was her role in founding the modern nursing profession. Her legacy is one of compassion, commitment to patient care and thoughtful nursing leadership.