News + Announcements
Formal partnership between Lakehead, OSMH, supporting future of health care in Orillia and surrounding region
---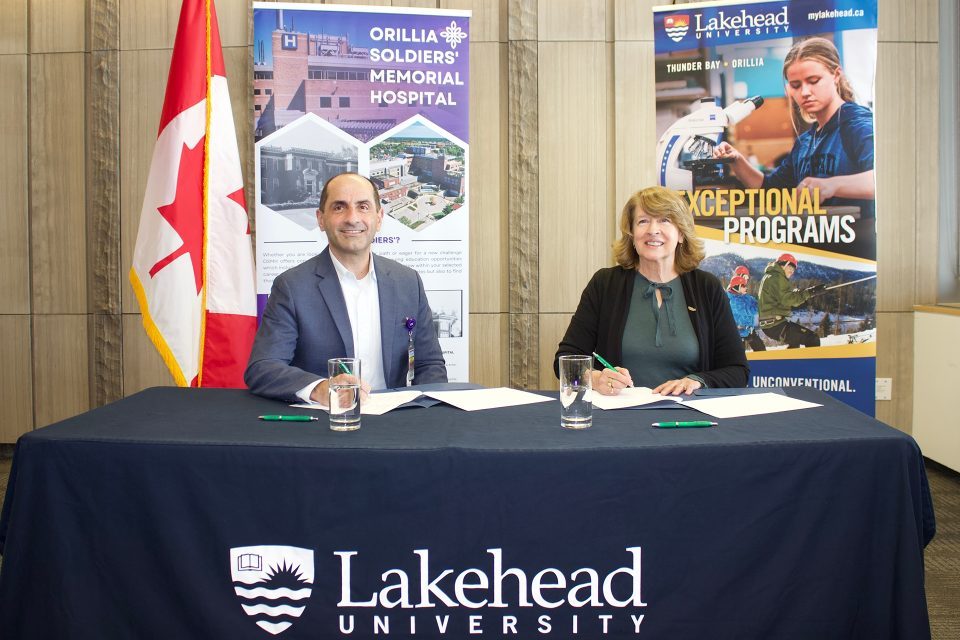 (Orillia, ON) -Earlier today, Lakehead University and Orillia Soldiers' Memorial Hospital (OSMH) signed a memorandum of understanding (MOU) that has the opportunity to have a profound impact on health care within the region.
Joined by members of the board of directors and senior leadership teams at both institutions, Dr. Moira McPherson, President and Vice-Chancellor of Lakehead University, and Carmine Stumpo, President and CEO of OSMH, formalized a long-standing relationship.
"We recognize the health human resource challenges that currently exist within the province of Ontario and right here in Orillia," said McPherson. "Soldiers' Memorial Hospital and Lakehead University share a common commitment to the health and wellbeing of the communities around us."
"This MOU formalizes our mutual desire to collaborate further and establish a strong and active partnership that benefits our students and employees, and our community."
The announcement also comes at a critical time for both institutions. The University is looking toward the future with the addition of 10 new programs of study at the Orillia campus in the next 10 years – programs that align with the socio-economic needs of the region. And, OSMH is moving forward with transformation of health in Orillia through integration of services, including a new hospital build.
"The time is now for healthcare and education providers to respond to the rapid growth being felt in Orillia and surrounding areas, and to prepare for the future," said Carmine Stumpo, OSMH President and CEO.
"There are natural synergies between our two organizations and through this agreement we look forward to building on an already solid foundation of partnership, particularly in addressing the challenge of health human resources."
Areas of possible collaboration between the University and Hospital are outlined in the MOU – from academic and non-academic program development, to scholarly and health-related projects and research, to collaborative long-term planning, such as opportunities for sharing of human and capital resources.
"Lakehead and OSMH are integral to the growth of the City of Orillia and the region of Simcoe County, and we are excited to see where the formalization of this relationship with the hospital will lead," added Dr. Linda Rodenburg, Interim Principal of Lakehead's Orillia campus.
Photo: Carmine Stumpo, OSMH President and CEO, and Dr. Moira McPherson, Lakehead's President and Vice-Chancellor, formalize the partnership between OSMH and Lakehead with the signing of an MOU.