News + Announcements
Medal that inspired visual identity change donated to the hospital
---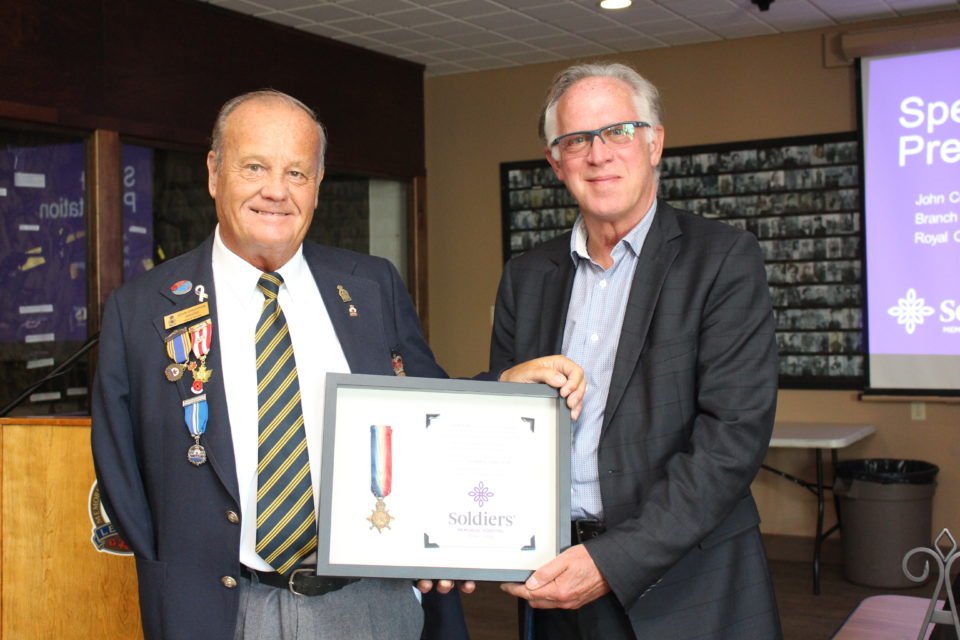 A World War I service medal that inspired the design of a new visual identity for Orillia Soldiers' Memorial Hospital (OSMH) was donated Tuesday in an emotional presentation at the hospital's Annual General Meeting held at Branch 34 of the Royal Canadian Legion.
John Cropper gave the hospital the 1914/15 Star Service Medal that was originally presented to his grandfather George Cropper for his service as a British Bombardier in World War I.
"It's my honour to present this medal for safekeeping and so that people can see the actual medal that inspired the design," said Cropper.   "I know my grandfather would be proud to know it will be displayed in a hospital named in memory of our troops."
A campaign medal of the British empire, the Star was presented to more than 2.3 million people who served in World War 1, including more than 70,000 Canadians.
"It's an incredibly heartwarming gift and has already generated tremendous interest," said Carmine Stumpo, OSMH President and CEO.   "Until now, most of us have only seen images of the medal, but to see one up close and to know the personal story behind it is truly inspiring."
In addition to the medal, Cropper also presented the OSMH Foundation with a $1,000 donation in honour of his grandfather.
OSMH unveiled its new visual identity on May 28, 2019, the hospital's 111th birthday.   Anchored by a woven emblem, the new logo strongly reinforces the hospital's longstanding connection to local veterans.  Formerly Orillia General Hospital, the hospital was renamed Orillia Soldiers' Memorial Hospital in 1922 in honour of local soldiers who served in World War I.