News + Announcements
Obstetrics Nurse wins 2023 OSMH Nightingale Award
---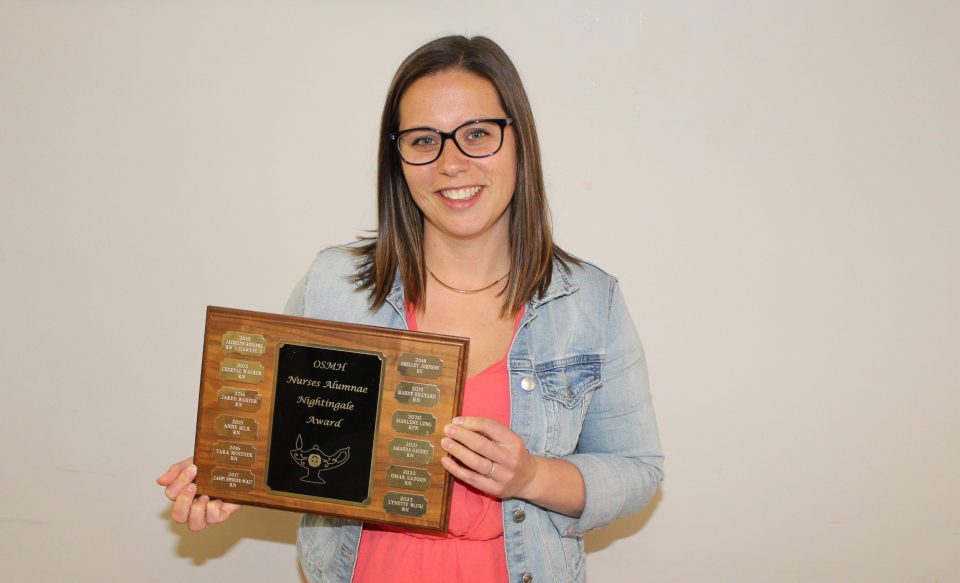 (Orillia, ON) – Registered Nurse, Lynette Blum has been awarded the 2023 Orillia Soldiers' Memorial Hospital (OSMH) Nurses Alumnae Nightingale Award.   A nurse at OSMH since 2009 in the Obstetrics Department, Blum was notified of her award during the hospital's special Zoom town hall meeting celebrating Nursing Week.
Blum was nominated by a local mom she assisted during a difficult labour and delivery of her premature daughter.  She was commended for her empathy, encouragement and knowledge as well as her reassuring bedside manner.
"I'm honoured," said Blum concerning the win.  "It humbles me every day to be part of our patients and families major life milestones.  To be able to offer comfort and care in that moment brings me such fulfilment."   She credits the team she works for the award, "It's a team effort. I love what I do and the support I receive daily from my colleagues makes me a better nurse.   The plaque may say my name, but I wouldn't have won it without them."
Here is an excerpt from the nomination:
"My pregnancy with my daughter was certainly not an easy one. I developed preeclampsia and it was the scariest thing I have ever gone through!  I was admitted and was told we needed to induce because it was becoming too dangerous. My daughter was going to be one month early.  Lynette was my nurse that first day and took such amazing care of me. The next day she talked me through the intense contractions. Suddenly, my daughter decided it was time to come. Lynette had time to call for help and then she delivered our baby girl by herself! We are forever grateful that she was there. It will be an amazing story to tell our daughter one day. She made a scary experience easier on all of us."
Jill Colin, OSMH Vice President, Patient Care & Chief Nursing Executive presented the award to Blum in a small ceremony with leaders and colleagues.
"Lynette's nomination exemplifies what nursing is all about. It spoke to her knowledge and her ability to adeptly take care of both a patient's medical needs and emotional needs.  She is an example of the finest in our profession and I am proud to call her my colleague. " Colin said.
Blum had tough competition, edging out 15 other OSMH nurses nominated for the award by community members, including runner-ups OTN Registered Nurse Bonnie Pleadwell and Emergency Department Registered Nurse Emma Cumming.
Pleadwell was praised as an exceptional nurse by a colleague at another regional hospital who works with her regularly to deliver cancer care:
"I can call her with very little notice if we have a patient that urgently needs to be seen and she always is willing to accommodate even if it meant working through her lunch or breaks.  It's very evident that her passion for her job and her patients comes first which she consistently demonstrates."
Cumming received accolades for the comfort she offered a patient after falling and fracturing her wrist:
"She was caring, supportive, and informative and made sure I was ok the whole time. I have bad anxiety when it comes to hospitals. My husband passed away from cancer in 2015 and we spent a lot of time at hospitals. They bring back sad memories for me, but on this night, Emma was so comforting and reassuring. And she had no idea about my level of anxiety. It was natural to her. She is the essence of what nursing is all about."
The OSMH Nurses Alumnae Nightingale Award recognizes a nurse at OSMH whose work has positively affected the lives of patients. It is named after nursing pioneer Florence Nightingale whose lasting contribution was her role in founding the modern nursing profession. Her legacy is one of compassion, commitment to patient care and thoughtful nursing leadership.
In recognition of the value OSMH nurses contribute to the healthcare community, OSMH developed five Peer Recognition Awards to honour their ongoing dedication and commitment.
2023 – OSMH Peer Recognition Award Winners
Heart of Gold – Julie Airth, NP
A nurse who in the past year has demonstrated and exemplified compassion in all avenues with patients, families and peers
Coach of the Year – Candy Spencer-Walt, RN
A supportive and resourceful nurse who in the past year has provided coaching and mentoring to their peers
Just for Laughs – Charlene Winterburn, RN
Laughter is the best medicine, a nurse who in the past year has demonstrated positivity & humor with patients, families and peers
Rookie of the Year – Jack Hunt, RN  
A new hire or new grad who in the last year has demonstrated outstanding nursing skills or most improved during their first year
PSW of the Year – Kam Sandhu, PSW
A personal support worker, who in the last year has demonstrated outstanding skill, compassion, courage, trust and teamwork.