News + Announcements
Orillia Soldiers' Memorial Hospital and OSMH Foundation Unveil Annual Report Highlighting Commitment to Improving Health and Wellness
(Orillia, ON) Orillia Soldiers' Memorial Hospital (OSMH) and the OSMH Foundation are pleased to present the 2022/2023 Annual Report, showcasing our achievements as one community committed to improving health and wellness.
Aligned w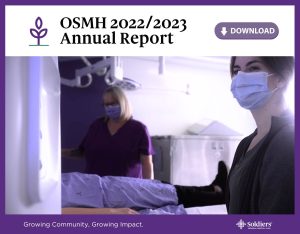 ith our shared purpose of a community committed to improving health and wellness, this Annual Report centers on the guiding principles of "We are Connected, We are Soldiers' and We Adapt and Advance". These strategic pillars serve as a lens to assess our journey over the past year, showcasing OSMH's proactive adoption of innovation, exceptional patient care, and community partnerships.
A series of noteworthy stories featured in the report underscore the hospital's transformative strides, notably the integration of advanced technologies such as the MyChart online patient information portal and the debut of a cutting-edge MRI suite, set to open this fall. The collective support from the community, through the OSMH Foundation, has made this significant upgrade possible. The new MRI machine boasts a state-of-the-art large bore 1.5 Tesla magnet, with cutting-edge imaging technology that introduces new diagnostic possibilities.
Another important achievement is the community-wide integration of care with the Couchiching Ontario Health Team (OHT). Together, we have expanded the Health at Home program, a venture that facilitates seamless patient transitions from hospital to home. This initiative not only enhances patient well-being but also effectively curtails hospital admissions, thanks to comprehensive in-home services coordinated in harmony with community healthcare providers and partners.
An essential update regarding our plans for a new hospital in Orillia is also presented, emphasizing our dedication to the region's evolving healthcare needs and growth of our community.
Each of our successes is made possible by the dedicated support of our community and we are grateful for that commitment.
For those interested in exploring the complete Annual Report, it is available for online viewing HERE.   Additionally, printed copies can be obtained at the Hospital or the OSMH Foundation office located at 146 Mississaga Street West.