News + Announcements
OSMH celebrates $25-million funding increase from Ontario Government to care for rapidly growing number of patients
---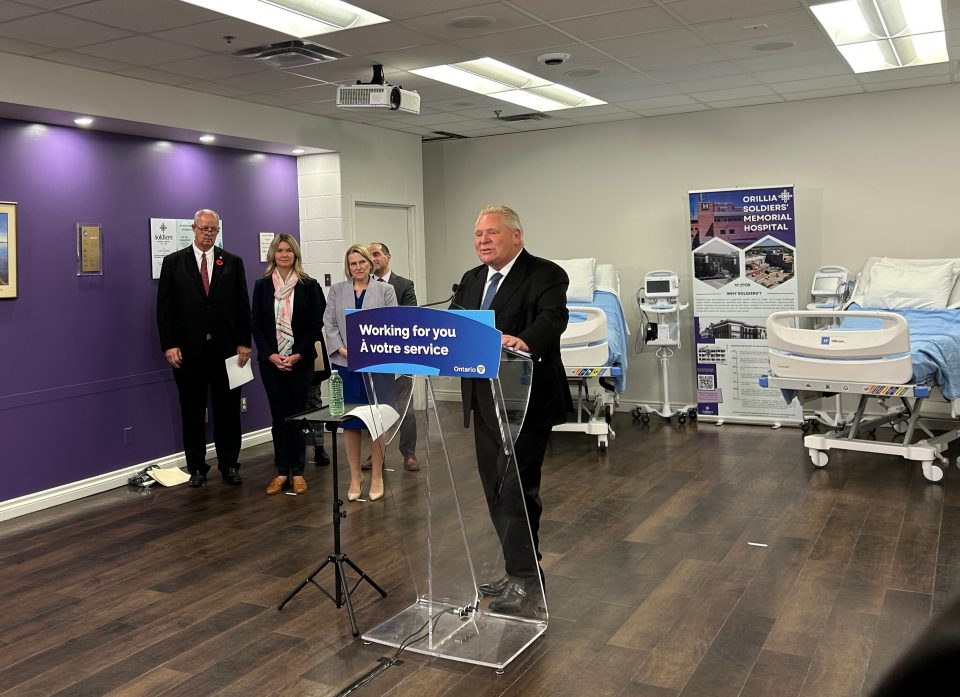 Orillia, ON – Orillia Soldiers' Memorial Hospital (OSMH) welcomes a funding increase of $25 million from the Government of Ontario to continue providing high-quality care to a growing number of patients.
The base funding increase was announced today during a visit to the hospital today by Ontario Premier Doug Ford, Deputy Premier and Health Minister Sylvia Jones and Simcoe North MPP and Minister of Colleges and Universities Jill Dunlop.
"This is incredibly good news for our hospital, for our community, and for patients and families who rely on us for their care," said Carmine Stumpo, OSMH President and CEO. "To have both the Premier and Health Minister on site to share in our excitement speaks volumes to their commitment and recognition of the growth challenges we are facing."
At the core of the announcement is a net-new base funding increase of $15.7 million, the largest single year over year increase in the hospital's history. The bulk of the funding will go towards operating costs of the more than 60 additional beds already opened and occupied over the past three years that have been managed through temporary or one-time funding arrangements.
"As our population continues to grow, this funding increase will help to ensure that the people of Orillia are connected to quality health care, when and where they need it," said Premier Ford. "Right across the province, we're making record investments in health care. We're reducing wait times, creating more beds and adding more doctors and nurses."
"Our government continues to make critical investments in our hospitals and health care infrastructure to connect more Ontarians to high-quality convenient care," said Minister Jones. "This investment will ensure Orillia Soldiers' Memorial Hospital has the beds they need to deliver high quality health care in their community now, and for years to come."
"Orillia Soldiers Memorial Hospital provides care to many, here in Orillia and across our region," said Minister Dunlop. "As one of the very few hospitals in our region, it is essential that OSMH is equipped to provide the highest quality healthcare services, and this funding allocation from the province will significantly improve their resources in order to do so. This announcement reinforces the government's enhancement of healthcare services, promising a healthier and brighter future for our community."
According to the Ontario Hospital Association, OSMH has had the highest occupancy rate of all medium- or large-sized hospitals in Ontario for the past two years.
OSMH is continuing to advance planning on a proposal before the Ministry of Health to replace its aging, outgrown building with a new, larger hospital to ensure the people of Orillia and beyond have access to the care they deserve.